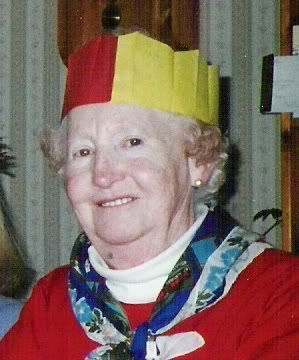 This is dedicated to my granny, Jean Binnie, who passed away on Monday. I dont really know what to write, but I have to write something. I miss her so much already, but I know she will always be with us. She was an inspiration to me in so many ways, she was so funny, loving and had a strength of character that never ceased to amaze me. She was and is, one of my heroes.
I think if anything, in the last couple of years when she was staying in a nursing home, I became even closer to her than I had been before. She had so much to deal with these last couple of years, from seriously bad health, a failing body, various disabilities and the loss of my grandad. Any one of those things would have been enough to finish off most people. But not my granny. She displayed so much courage and inner strength that I was really humbled. She defied family and doctors by pulling through from several near-death conditions.
I just wanted to salute her. I've been thinking of writing a poem for her funeral as i did for my grandad, but words just fail me. My mind is still too dazed and numbed. It sucks. But at least I know she's not suffering anymore and she will be with my grandad again, no doubt bossing him about as she always did in life! That, and making undiplomatic comments as was her purview.